8 Guest Communication Channels
Discover what our 8 communication channels can do for you. Hotel MSSNGR's modular approach enables you to choose the channels that best suit your hotel and your guests. Channels can be added or removed at any time. Regardless of your choice, we will greatly increase the productivity and efficiency of all staff involved in guest communication.
Smartphone and tablet apps
One of our key products and most used channels! The app is running on the personal devices of your guests. With our app, you offer the most sophisticated and personal access to what goes on in your hotel in real time. Guests can book activities, services and orders directly from their devices.
Install your brand on your guests' home screen and be with your guests wherever they go.
Web App - Digital Guest Directory
Hotel MSSNGR's web app is the ideal entry point for your guests to get started with your digital guest communication. Our web app runs on every smartphone and tablet. Simply offer access by scanning a QR code at reception or log into your WiFi.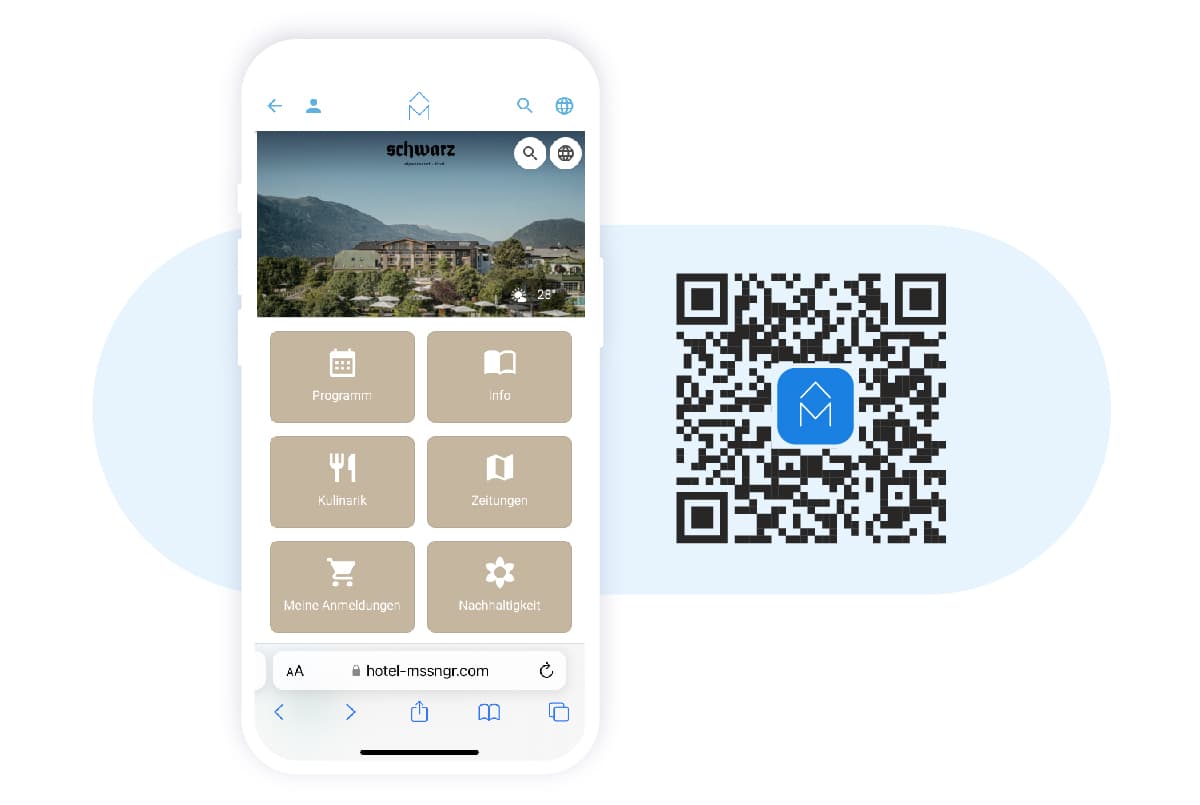 Digital Signage
Touch screens in the public areas are a great tool for your guests to find out what's happening in the hotel. Displays inform your guest with a carrousel slide show around the clock. All of your content can be customized to the location of its display.
In-room TV
You are showing a beautiful image film about your hotel. Use this moment and add all your inhouse content for your guests in multiple languages. Hotel MSSNGR's in-room TV channel makes it easy for you. It is a great way to reach your guests – switching on this guest communication channel is a no brainer.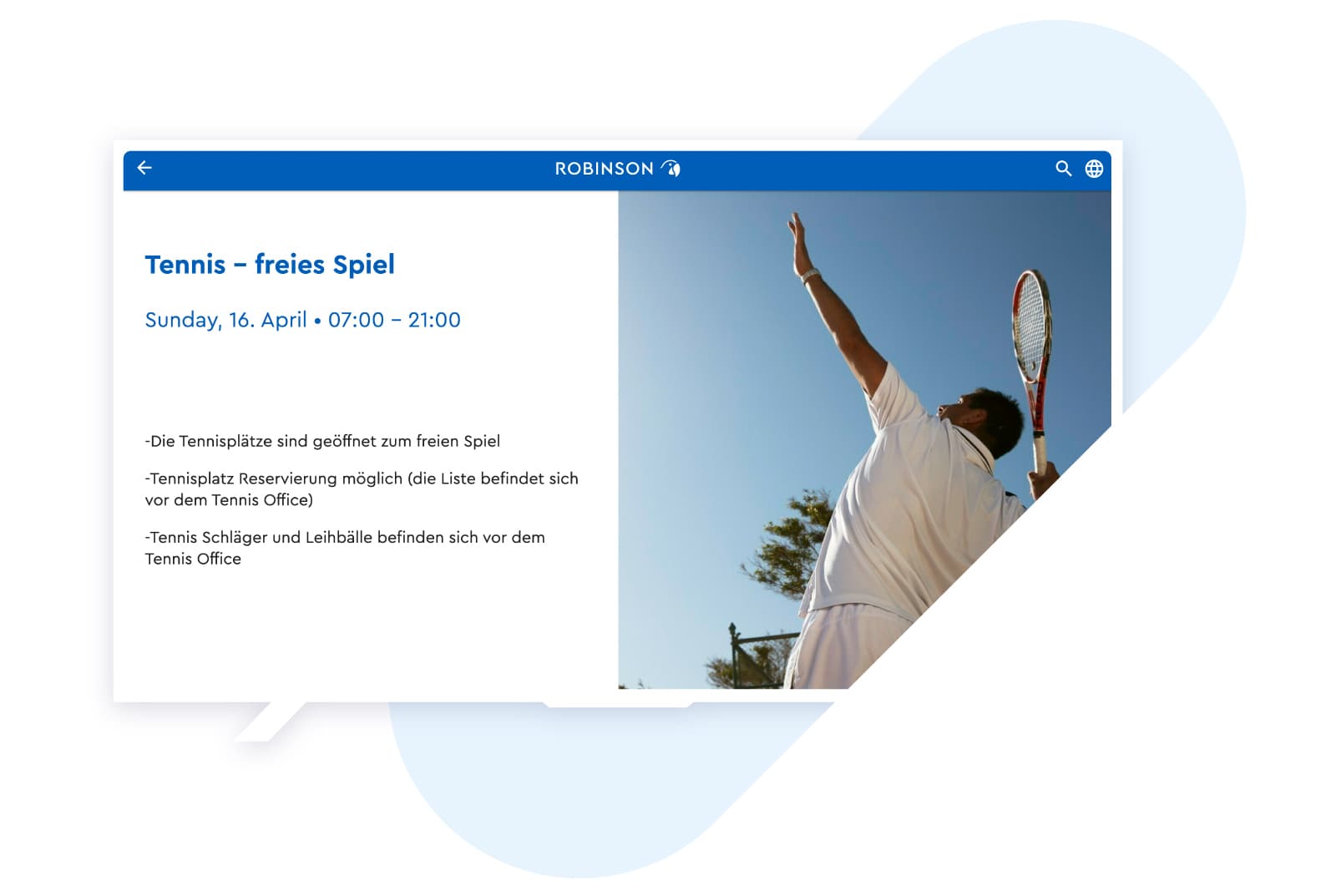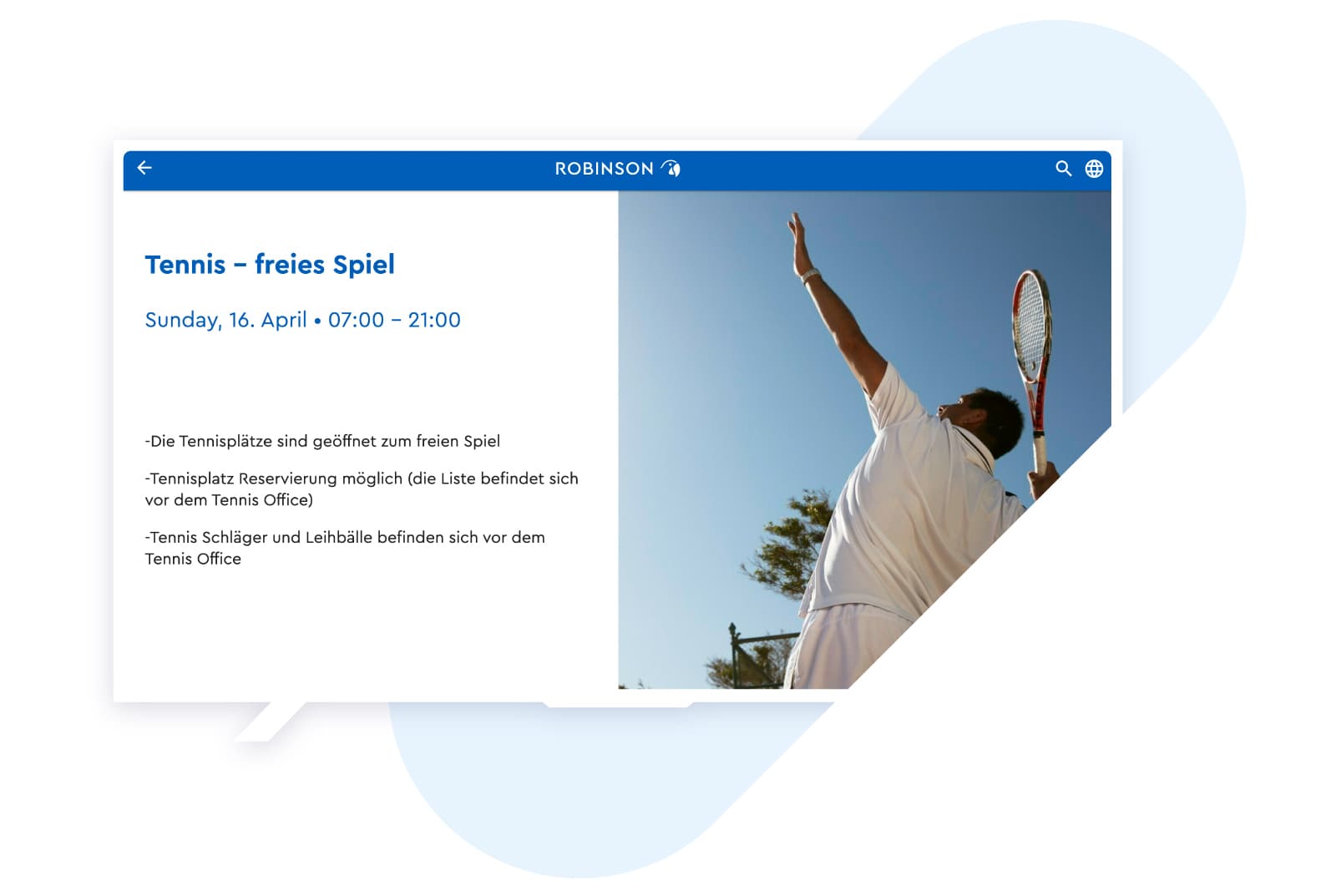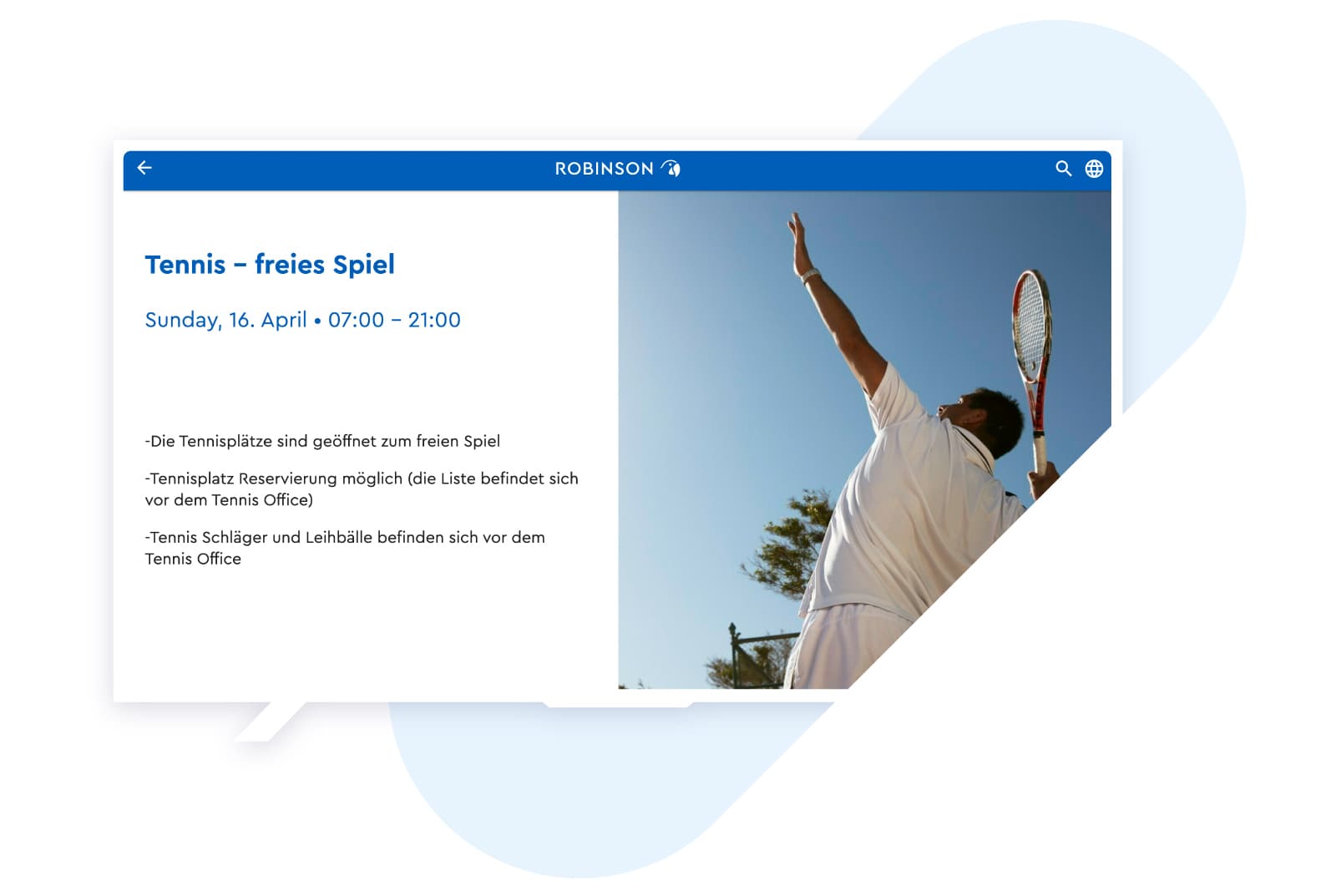 Smart TV
Hotel MSSNGR's smart TV app is easy to use. Guests can browse all content, book activities, reserve a table or order room service. Add value to your TV content by offering your guests an upsell solution right on the remote control in their hands.
Carbon PDF
Stay true to your design principles on all print materials every day! Hotel MSSNGR's Carbon PDF makes it possible without any hassle. Simply store and then drop all CMS content into templates. These equal your requirements 100% perfect. Anyone in your team can now produce your printed PDFs with the exact quality you designed them to be. And all this in no time.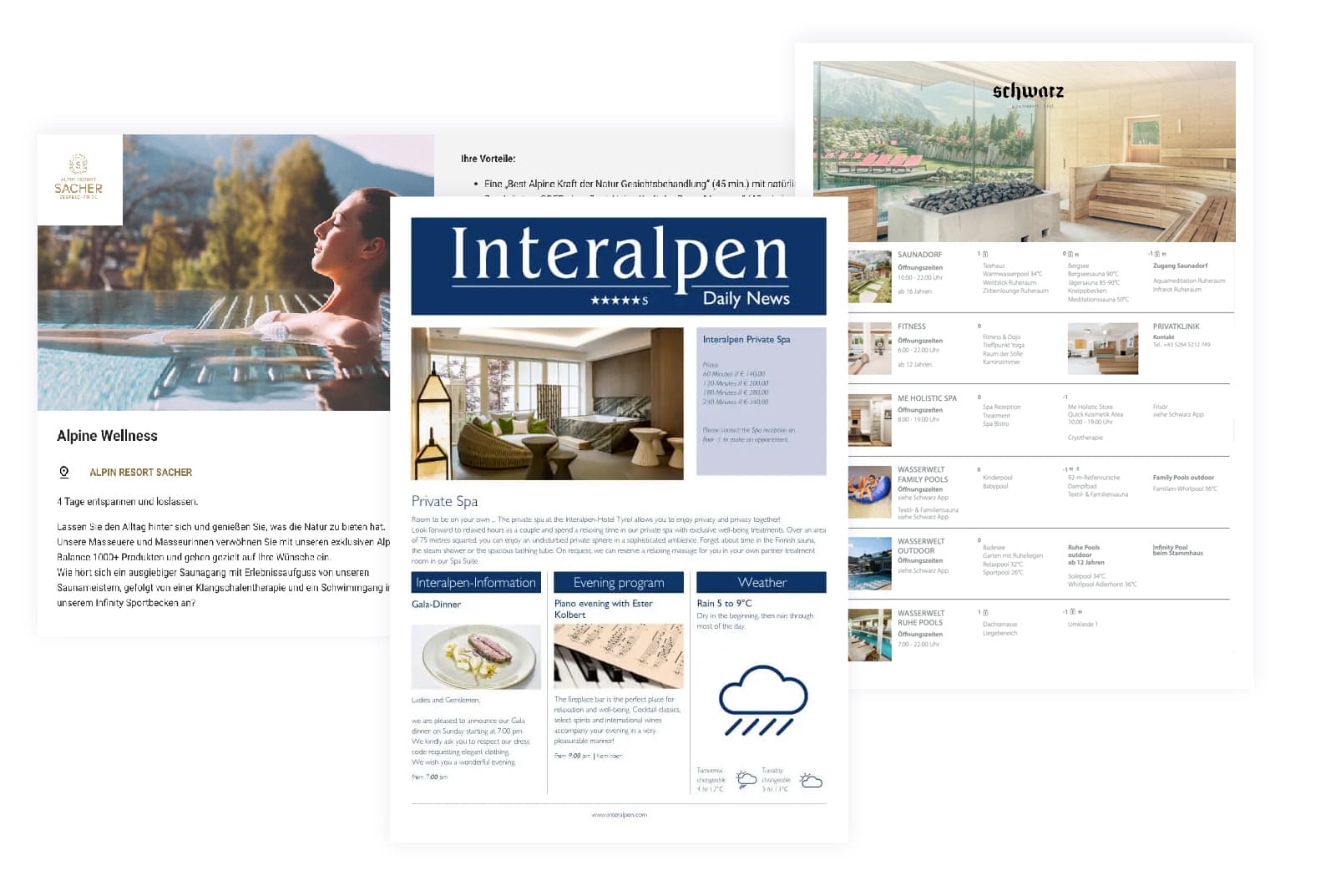 Web Stream
You may have a webcam view integrated on your website. Integrate Hotel MSSNGR's content in a similar way and show what is happening in your hotel. Display activities, culinary menus, inspiring lectures and soothing spa treatments. A "content webcam" to show potential bookers how wonderful it is to be a guest in your hotel – Hotel MSSNGR can be easily integrated into your existing website in various formats.
Pre-Stay Mail
Your guests can't wait to spend time at your hotel. Take advantage of these emotions and encourage your guests to book offers, services and activities in advance. Hotel MSSNGR's content can be exported to your existing newsletter engine. Your pre-arrival newsletter informs your guests what to book, what to pack and what to expect for their stay.
Hotel MSSNGR offers 8 different guest channels for hoteliers to chose from
Hotel MSSNGR is proud to serve these fine hotels and resorts and many more:
Book a personal demo!
We show you how to find the perfect
communication channels for your hotel
without adding any extra work at all!
Request a demo now!