Generate onsite revenue larger than €1,500 per guest and stay*
In 2020, our clients generated over €1500 onsite revenue per guest per stay* through Hotel MSSNGR. Hotel guests booked restaurant tables, SPA appointments, sports courts, ordered room service or participated in activities, reserved beach chairs and many other services in and outside the hotel.
Our clients benefit significantly from Hotel MSSNGR's cloud-based booking engines. They are efficient and simplify the process.
A proven return on your investment: More than €1500 onsite revenue per guest
Hotel MSSNGR enables hotels to generate more onsite revenue. Proven through many years of operation in our client's hotels, Hotel MSSNGR provides significant volume to your P&L. No matter what products, services, offers or activities you want to offer, our booking engines are extremly flexible and most likely handle everything you need. And with our hotelier-centric approach, you decide whether your guests can book activities or whether the bookings should be handled by the hotel's staff. By the way: Hotels that offer both types of bookings have twice as many guest bookings as bookings generated by staff only.
Room service orders
Hotel MSSNGR's room service tool enables your guests to order room service through your native Hotel MSSNGR app or through your web app. Your guests benefit from an activating presentation of your menu including a convenient user experience. And the internal handling will improve too.
Sport court reservations
Sport court reservations like tennis courts, squash or volleyball are often stressful for the team – back and forth bookings, cancellations, frequent calls to find out what's still available. All this can be avoided by letting your guests handle their bookings independently. And all this at an even higher service level than before as information and bookings are available 24/7.
Activity bookings
Are your activities such as hiking tours, cultural events or kids' programs too attractive for everyone to take part? Does your guest relations team have to handle many requests individually just to tell your guests "we are fully booked"? Hotel MSSNGR's activity booking engine takes a lot of the stress out of your team by offering your guests all activities and encourage them to book themselves.
Restaurant table reservations
Coordinating restaurant table reservations can be quite a mess. A paper-based reservation list (non-cloud based digital reservation files are not much better) must be accessed from many guest touch points. Many phone calls – internal and guest facing – are often necessary to finally make a reservation. Let's hope the guest does not change their plans. All of this is much easier with Hotel MSSNGR. The proactive listing of all availabilities encourages the guests to book themselves (cancelling and changing the reservation too). At the end everyone involved is happier.
Back office booking tools for staff use
Not every guest is happy with self-service bookings via smart phone. To be honest, even we as digital afficionados think that's perfectly fine. Some of the hotels we serve are so small and personal that self service bookings are going out of style. Nevertheless Hotel MSSNGR helps. All of our booking engines are also available to your staff. Your team will benefit from a state-of-the-art cloud-based booking engine that covers all the complex requirements of running a restaurant.
Guest self service
Do you think your guests might not want to do self-service bookings? Chances are these guests didn't see or use Hotel MSSNGR's booking engines. On average, guests book more than twice as often through Hotel MSSNGR as they do "old school" through the hotel staff. With Hotel MSSNGR we support you to go either way, because you know your guests, your team and your property best. And if in doubt, try both: Offer your guests self-service bookings and through your staff. Using Hotel MSSNGR makes both ways super simple and easy.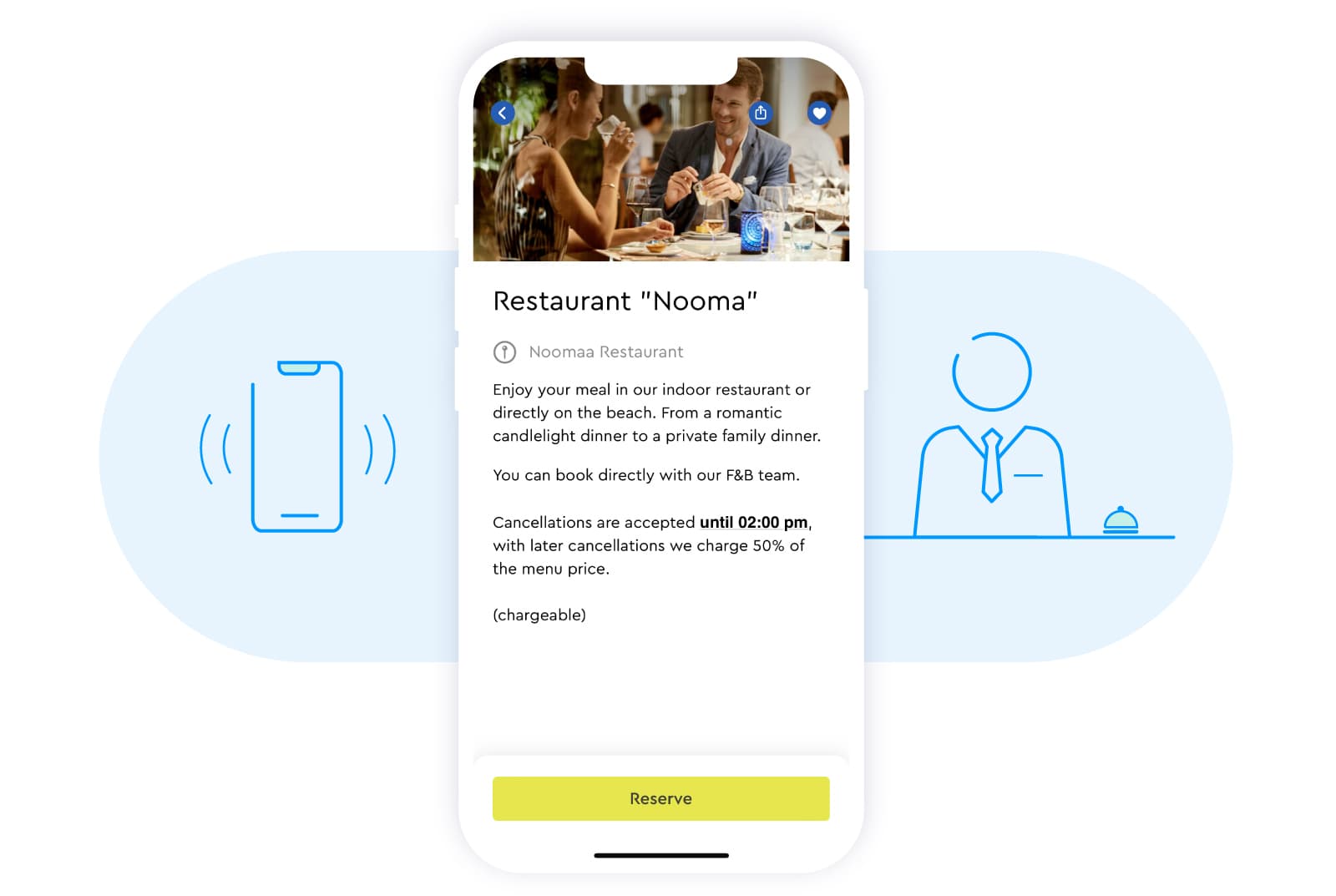 *per guests who either performed min. 1 booking/reservation per stay via the Hotel MSSNGR native and web app of the hotel and/or via the hotel staff which used the Hotel MSSNGR back office booking engines to administer this booking.
Hotel MSSNGR is proud to serve these fine hotels and resorts and many more:
Book a personal demo!
We show you how to find the perfect
communication channels for your hotel
without adding any extra work at all!
Request a demo now!