Kids' safety: Maximum standard with no effort
4 min
Makes it easy to stay on top of the kids' needs
Nut allergies, hay fever, non-swimmers, … there are hundreds of important details about each child that need to be considered. This can be tough. With the Kid's club registration all this information is always in sight and accessible, making it easier not to overlook any important aspects.
For example, parents can indicate if their children have food intolerances or allergies, if they can swim, if first aid can be used or if they are allowed to leave by themselves.
Helps identify authorised persons for pick up and drop off
In order to properly identify those people authorized to pick up or drop off children and – more importantly- to ensure that a child is not picked up by a stranger, you can have guardians registered through the Kid's club registration.
What does this mean? You can define a number of persons per child, each of whom would be required to upload a photo and a signature. By that, the kids club staff can check the person with the photo at every drop off or pick up and have the process digitally confirmed with a signature.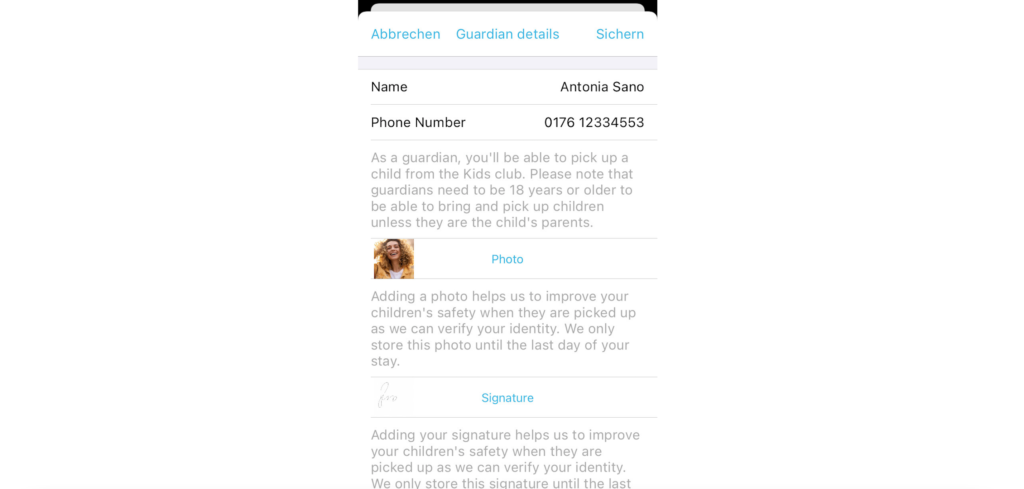 Documents which kids are on site and who isn't
A bunch of excited kids, it's easy to lose track of who's there! To prevent this from happening, you always have an overview in the system of which children are still there and which children were picked up at what time exactly.
How does it work?
The Kid's club registration feature allows your guests to conveniently enter all relevant data about their children ONCE through your app. These data are stored and easily retrieved each time the child checks in for a kids activity or into the Kid's club. All your staff needs is a signature from the guardian and that's it – a matter of seconds.
1 Guests need to fill out the Kid's club registration form in your app.
2 Guest books kid's activity through your app or wants to check in their child directly at the Kid's club.
3 Your staff has all the data on the child available to them immediately. All they need is the signature of one of the previously registered legal guardians.
Watch this demo for a better understanding:
Take advantage of our Kid's club registration to automate these processes, speed up kids check-in routines and free your staff to dedicate full attention to the kids. All digital with no effort.
If you would like to give the kid's club registration a try, please feel free to contact us here.
Book a personal demo!
We show you how to find the perfect
communication channels for your hotel
without adding any extra work at all!
Request a demo now!